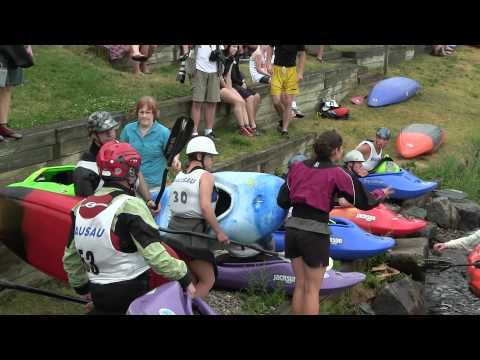 At whitewater parks around the world, we as the kayakers and canoeists who enjoy them know that there is a very great knowledge gap between us, and the communities to which these parks call home. When we are on the water, or watching our just watching our friends, there are always dozens to thousands of onlookers who have absolutely no understanding of our sport despite its location in their backyard.  Every time I am at the park, I encounter citizens of the local communities, and am sure to engage them in a conversation about whitewater kayaking. I have yet to meet someone who knew even the slightest bit about our beloved sport. But, after a few short minutes with each of them, they grab a calendar of events and mark the next date to visit Wausau Whitewater Park.
The city of Wausau, WI is home to over 100,000 people including nearby communities. But, out of all of them, the number of whitewater paddlers who live here can be counted on two hands. Because of this, Wausau Whitewater has followed the path of other whitewater parks in creating a summer festival, and just last weekend hosted the 2nd Annual Wausau RiverFest which drew over 100 paddlers to the park! With non-stop action on the water, this is definitely the perfect event to partake in, but the strategic scheduling has made this the showcase of our whitewater park to the community and a perfect opportunity to educate non-paddlers, and grow participation in the sport.
Wausau RiverFest has put it's own twist on Fibarks famous Hooligan Race. But, before they begin, while the banks continue to fill with people, Dave Lemke provides an instructional Freestyle 101 lesson with the crowd. The expert boaters are getting their warm up runs in little drop, and dave provides precise descriptions about the various tricks which allows everyone to enjoy the competition with a greater understanding later in the day. But that's not all. Free Flatwater demos reel these folks in one step farther by getting them into a kayak; and soon, our registration table is bombarded with people wondering how they can learn to paddle whitewater!
We have been fortunate enough over the past few seasons to receive such great support from our local paddling shops such as Whitecap Kayak and Bear Paw to be able to offer Intro to Whitewater Kayaking lessons all summer long at the most affordable rate I have ever seen (just $40 including equipment rental!) They see such a great value in the concept of growing the number of paddlers, which will then grow their customer
base at their hometown shop. But more importantly take pleasure in contributing to the sport and local paddling community. Each year Wausau gets 100 newbies on the water in an intro class and has even taken someone like Bob Riorden from never having paddled whitewater to handling class II/III sections with ease! It's great to know that with only a couple years in to this model for growth, I can already see the potential for exponential results!
But, let's move on for those of you who want to know what fun there is in RiverFest for you. Well, we've got it all. This event is not about the pros, it's not about intense competition, it IS about FUN! And that's exactly what it brings. Friday night more people than ever fill Toast Flats, our makeshift hometown campground within walking distance of the park. The City's Summer Kickoff is also just a stroll away with live music, rock climbing, and an outdoor movie! But for those of you who'd like to stay cool and relaxed, the VFW has karaoke all night long! Or, hang out and play a game of darts, pool, or have a few drinks at the bar. Oh, and don't forget, it's Friday so enjoy one of the best Fish Fry's in town right at the VFW! AND…. did I mention 4 Square? Wausau is famous for bringing everyone together in games of 4 square. Now we have some different rules to the game than the one you played as a kid, but this is why it's so much fun!
Wake up at Toaster Flats to the Farmers Market to get your breakfast, then enjoy a fun filled day with Free Yoga classes from Community Soul Yoga, 5K run/walk, beginner, intermediate, and expert freestyle competition, boatercross, Hooligan Race and Ride The Bull! Everyone who participates is entered to win prizes from the random drawing at the end of the night so participation is encouraged from everyone to develop their skills rather than win a trophy for being the best. Ride the Bull is this year's new event and is exactly what it sounds like! Well, sorta. The bouncy flushy wave at Big Drop is a challenge to ride; this "Bull" is ferocious! So everyone lines up for their shot at an 8 second ride.  If you succeed, you'll receive a special edition sticker proclaiming your victory over the Bull and bragging rights for years to come! Cause boy…it's not easy! Dozens entered but only 3 walked away victorious, including Rick Rassier, Craig Esposito, and Kyle Behrends. Congrats Guys!
And of course, what you all want to hear about is the HOOLIGAN RACE! Like I said, this one is done a bit differently than what you may be familiar with as it is not even a "race" per say…but more of a show. Random judges are selected from the crowd and rate the crafts on a scale of 1-10. The totals are calculated and a winner is announced! Sound easy enough? Well….not so much, there are no guidelines, no rules for judging, so these 3 people base their scores on their own interpretation of your craft and your ride down the river. Neither a spaceship, buzzing Flies or even cheeseheads who each received near perfect 10s could beat out this year's champion, Gaucho Amigo!
Pete Steffes began his ride with an off water show of his assless chaps and proceeded to ride his homemade Bull down big drop. When he reached the bottom, a candy toss to the kids, and throwing of water balloons in faces all accompanied by his own music was the laugh of the day! And his craft even made it through little drop without trouble. He set the bar high for next year's competition and we look forward to seeing what you guys can come up with next!
But even after all of this, the weekend is not complete. Saturday night wraped up with a random drawing for over $2500 in prizes from Whitecap Kayak, NRS, and World Kayak!  Then, we had dinner at the Red Eye Brewing Company, and headed back to the park for the evening Film Festival. This year's winner of an NRS Ninja PFD went to Mike Croak for his short film of U.P. Creeking!
With all of the excitement and energy on Saturday, we leave Sunday for recreational paddling. Grab your friends, head to the put in, and play your way down. The water runs for 6 full hours so you've got plenty of time to enjoy your favorite spots, your favorite people, and even hang out with your new friends you met this weekend. The Festival is still growing and you can expect some sort of new challenge next season. Ideas have been tossed around for King of the Hole, Party surfing competitions, relay races with obstacles, and oh so much more! We'll see you next June!
Check out the oodles of pictures, and the video and we'll see you on the water!