Greetings from Nashville!
We've been making some big changes here in Nashville for the greater good of our whitewater kayaking scene. Lots of good scouting by local paddlers, feature building, and river clean-ups have resulted in a completely changed Nashville whitewater scene. Plus, the addition of the Nashville Whitewater Facebook group, the birth of the Nashville World Kayak region, and the creation of www.westroke.com have all done their parts in bringing this scene together. So needless to say, we've been busy!
Most recently the efforts of locals following local rivers on Google Earth, looking for sections of white and rocky areas, came upon a possibility for a good feature. The directions took us way down south to Columbia, TN, to a parking area under the 431 bridge called Hardison Mill. We were amazed at what we found there. It was an old washed out mill/ dam. Old timbers and a jumble of rocks was all that was left of a once thriving mill there on the Duck River. But despite that fact, all the necessary components were there to make something great. It all started with us piling rocks on the back of a stuck log, then moving thousands upon thousands of rocks, forming underwater jetties to direct more flow to the wave. After at least 7 or 8 more rock-moving sessions by the WeStroke crew, the feature had finally come around and was retentive enough to hold you while you performed spins and basic moves. But that wasn't enough. The recovery area was still dicey, very rocky. So one day I loaned the guys my pick-axes and they took matters in their own hands. Now, the hole is deep enough where if you roll in it, it'll hold you there, till you roll up. And the recovery area is also deepened, enough where if you miss your roll, you still have time for one more. The hole is also 100% loop-able, cart-wheel- able, etc. Practice all your favorite hole tricks here, because it has been sculpted to do so. The dynamics of this hole are great too, seems to be, the lower the river is, the better the hole is. Locals are currently working on a smaller, high water hole in a channel on river right so when the main hole is covered up completely, this one should be running. Also, very close to this feature is Rutherford Creek which sports rapids such as Rockcrusher and Canyon Rapid. This whole area is blossoming as the flower of Mid/Tn whitewater kayaking. Even better here is the awesome beach where you can hang out with your friends, enjoying the bonfire pit, and friendly conversation, that's there as well. Just last night, we were out there till the fading light, surfing, then hanging by the fire to warm up, and knocking back some cold ones to warm up even more! So, needless to say, Suck and Tuck Rapid on the Duck River is a really fun place to hang out with friends and get way better at playboating.
So all this great stuff being said, it leads me to my next subject, a real World Kayak Hometown Throwdown Freestyle competition right here at the Redneck Hot-tub. I apologize to anyone who's been trying to follow these competitions based on the plans I noted at the beginning of the year. There really was no way we could have predicted the worst drought in Nashville history would happen this year. So no water lead me to make last minute changes that allowed us to have World Kayak HTTD's at all. The throwrope competition, the upstream race on Overall Creek, Survivor slalom at Harker's Crossing on the Stones River. These were all events that changed the face of Nashville whitewater. But lack of water, still, prevented me from having the event of my choice, freestyle kayaking. We paddled all winter long surfing everywhere just to figure out, it just wasn't possible here. All this till Suck and Tuck was built. Hats off to the WeStroke crew for making this possible.
The next Nashville World Kayak Hometown Throwdown will take place Saturday, November 3, 2012 at Suck and Tuck Rapid on the Duck river at 1pm. Bring your playboats and your cold weather gear. And if you don't have a playboat, no need to worry, someone's got one here you can use. We will build a fire on the beach, hang out, and have some friendly competition. Afterwards, I will raffle off my last bit of awesome swag from our awesome World Kayak sponsors, including a pair of Kokitat river shoes, a Shred Ready pro-deal card, and Mountain Khaki gift cards, just to name a few. So we hope to see you on the river for our last HTTD of the year! I'm embedding a video of our feaure so you can see for yourself the great dynamics of our star playspot that grew out of nothing on the Duck River!
Follow this link to register for this event:  http://regions.worldkayak.com/nashville/wp-admin/edit.php?page=throwdown&nav=manage_event&event_id=566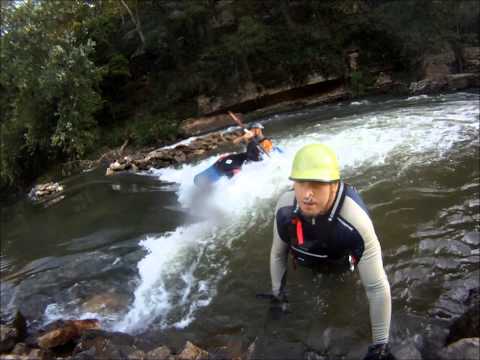 Philip Byard
Nashville World Kayak Ambassador