Rincon Rendezvous 2012 Press Release:
Deep in the depths of that "boring doldrums area" on the Arkansas River just outside Salida, CO at the end of each summer is the annual Rincon Rendezvous –A Homebrewed Colorado Squirt Festival. These glittery few seek a seam of water that runs down the dragon's back. They seek to sink, go into the realm and get fluid for awhile. I have seen them firsthand ride this dragon, disappear into the depths and come back a shell of a man.
As always, the main goal of these gatherings is to get down and stay down for as long as possible. This year is special and we are pleased to announce that this year's Rincon Rendezvous will also be the site of the annual World Mystery Championships. The some world's best squirt boaters will be converging on the Arkansas River 6 miles outside of Salida, CO just upstream of the Rincon Boat Ramp. This year it's more than the Rincon Colorado Pride Trophy up for grabs, but the 2012 Title of World Mystery Champion will be decided this August in Colorado. This year it will be held the first weekend in August (3-5).
So, dust off your glass, clear your calendars and please join us, as competitors from around the world are already booking their flights and making arrangements to take your hometown gold. This is a very friendly spot to learn/ try squirt boating, do some family camping, and see and spend time in the squirt world. You really have to see it to believe it.
Zombies eat brains we all know that, now let's just move on… Grab your glass, rally the troops and get yourself to Rincon this year.
Here is a little video clip from last year, at far less than desired levels hovering around 500 cfs. Enjoy and tell you squirt friends to get ready this has never happened before and who knows if it ever will again, come on out Colorado!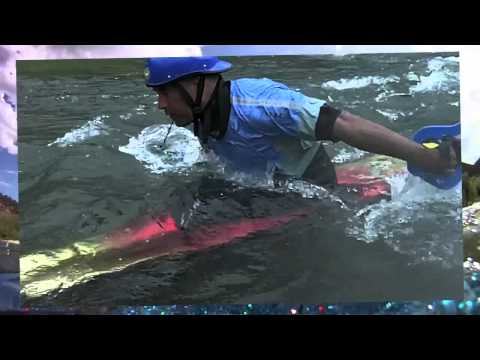 ************************************************************************************************************
Rincon Options for getting your gear to Colorado's Front Range:
Forward Air:
Let me know and I can zip out there and pick-up your boat. Make sure ever thing is paid for and label everything Confluence Kayaks/ -Your Name, and they see me enough it's not an issue.
Direct ship:
You can send things (UPS/ FedEx Ground/ Sports Express) to Confluence Kayaks c/o Rincon in Denver. They are located very close to downtown, have a history in glass, and will be at the event. If you need a real sleeping pad, foam, kayaking gear, cold weather gear, straps, anything kayak related, or whatever you need before heading to the river call them and they can help.
Confluence Kayaks
2373 15th Street
Denver, CO 80202
info@confluencekayaks.com
303-433-3676
Airports:
International or Main Denver Route:
Time to river (Less than 3 hours) from the airport. Advice: get out of dodge. (Denver). Stop by Confluence Kayaks on your way through town to get your bearings and pick-up anything you may have forgot. Then get out of Denver as quickly as possible.
I-70 West DIA
470 South
285 South
Out of town:
Denver International Airport (DIA)
Covers most of the major airlines and is located about 30 minutes outside Denver. Big airport used to dealing with kayaks. Cars/ SUV's with luggage racks can be rented from the airport. Some folks will buy 2×4 boards and rig as cross bars for their rental rigs. Works great. Or call Confluence for better travel options. (303-433-3676)
Colorado Springs Airport
CO Springs is much smaller than DIA and not much of a time saver to get to Rincon. It does offer direct flights from the PNW. And could be a cost saver. But, you are an hour south of Denver and on your own for support.
Len can assist closer to the river and I can assist with shipping and Denver area stuff. Let me know what your thinking, If you want to spend time around here or what to expect gear and weather wise. Denver is a cool place to visit, even though it's not in the mountains.
************************************************************************************************************
Directions from Salida, CO take US Hwy 50 East toward Canyon City. You'll go around 4-5 miles and you'll enter into a tight canyon area, you'll notice that it begins to open up and left turn-off will come up. Take this Left CO Rd 7/45 to "Wellsville" on sign. Stay right as you are driving down the road and do not turn toward the Gravel Mill. CO Rd 7 starts as a nice gravel road, after a about a mile or two you cross a cattle grate, and the road will become less improved. Next you will go under a small concrete railroad bridge, after the bridge follow the river downstream and go left at the T. Keep working down stream on the frontage road when you come to a BLM Toilet, you are almost there. Our camp will be just down the hill on the large landing one the right. We will have several Ez-Ups making a base area close to the metal fire ring in the center. You will see lots for fingers stretching out from the center of camp, grab one and set-up camp. We'll try to keep the cars and trucks closer to the frontage road. The Mystery spot is just down stream about 100 yards and there is some parking close to it. I recommend just boating down to it and walking back. Save the parking for the people just coming down for the day, or people running beer and gear.
**********************************************************************************************************
Here's a little photo collection from the last several years Rincon Rendezvous, enjoy.
***********************************************************************************************************
Here is the biggest news to date, this is the short list of VIP Sponsors who have stepped up to the plate to Sponsor the World Mystery Championships. We are looking forward to hearing from more of the paddling world to come, but these awesome folks wanted to be first. Thank You. Karma is coming your way.
http://worldkayakblogs.com/
http://www.canoekayak.com/
http://www.sinkspots.org/
http://www.deerhammer.com/our-story.php
http://www.facebook.com/deerhammer
http://www.confluencekayaks.com/