Central Oregon is an outdoor recreation paradise, where you can ski, bike or climb in the morning and kayak in the afternoon.  Then at night, you can continue the adventure down the Bend Ale Trail.  Situated on the edge of a desert and at the base of a mountain range Central Oregon's high desert gets the best of both climates.  This weather is some of the most user-friendly in the Pacific Northwest due to its location on the east side of the Cascades, which creates a wonderfully dry rain shadow.  With as many as 300 sunny days a year, there is ample opportunity to get outside and play.  There are big sky views of the Three Sisters from almost every part of the region and there are rivers that flow through every town.
The City of Bend is the largest in the region at 80K and is the central hub of activity.  Bend has all the offerings of a vibrant city such as shopping, entertainment, colleges, sports, parks, dining and at-least 10 micro-breweries.  The Bend Parks and Recreation District has always been a highly successful asset for the people of Bend and has just received voter approval for a new whitewater play park.  The Central Oregon Trail Alliance has worked with the USFS and BLM for the last 15 years to construct and maintain over 500 miles of mountain bike trails on public lands.  Mount Bachelor is the largest winter sports area in Oregon with 3700 vertical feet and 3355 acres, served by 7 express quad lifts and 3 triple lifts.  There is also 56 km of Nordic trails groomed for both striding and skating.  Smith Rock State Park is only 20 miles away and has some of the best sport climbing in the world.
Kayaking in Central Oregon offers diverse opportunities ranging from High Lake paddling in a wilderness like environment to thundering class V falls.  Dissecting Central Oregon is the Deschutes River named by french fur trappers for its many waterfalls.  This river lives up to its name for the kayakers who are seeking the tremendous challenge that these drops present.
In summer, the class IV+ Meadow Camp run starts 10 minutes from Bend and ends at Farewell Bend Park.  In winter, the class IV Riverhouse run starts in town and runs 5 miles to Tumalo State Park.  Both of these runs are technical and rocky, with endless learning opportunities.  Dillon and Lava Island Falls are exciting class IV drops at winter low water and raging class V drops at summer high water.
The Metolius and Crooked rivers have class III runs through alpine forests and desert canyons perfect for the summer heat due to the many cold springs that feed them.  The upper Deschutes has several long scenic flat-water tours perfect for canoes.
Living in Central Oregon is all about easy access to a great variety of outdoor activities every day and every season.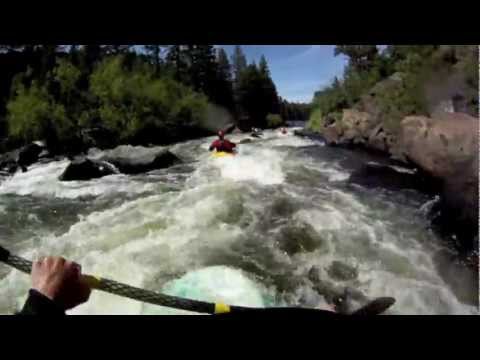 Video by Dave Eveland